Most of the times I bake, I bake with a purpose. Whenever there's something to celebrate, there is always room for cake. I try to eat healthy and good, so I believe I can indulge once in a while without it ruining my healthy attitude. Well... semi-healty anyway ;)

Some times I will try to bake something that isn't so unhealthy, and other times I go for all the yummy sugary stuff. What is peculiar, is the fact that I usually don't even eat more than one muffin or cakepiece when I do bake. I get so filled with eating off the utensils and my fingers, that by the time i am done baking, I've already had my share of sweetness. My room-mates and colleagues at work usually reap the benefits of my hobby.... They haven't complained yet!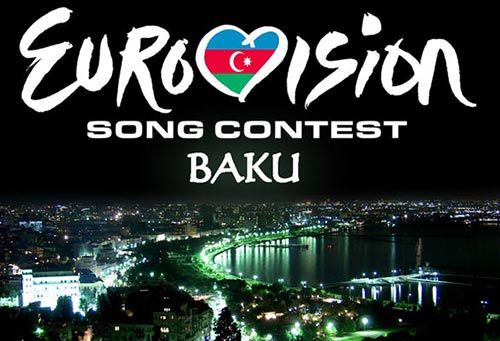 This year's Eurovision was held in Baku, the capitol of Azerbaijan.
Last saturday was the Eurovision Song Contest 2012. This is a very big thing in Europe, and can be summed in a sentance. It's a songcontest between European countries and countries bordering on Europe, where showmanship, and pyrotechnics and followed by cheap marketing tricks and extremely bad songs. We don't watch it because the music is good, we watch it because the entertainment value is so high :) And once in a while, a good song comes along, but seldom wins because it gets drowned by all the other cheap tactics from other countries to make their contribution the flashiest.
So, my friends and I always gather for the annual Eurovision party, drink, eat and are merry 'till the wee hours of the night. So this year, I decided last minute that I wanted to bake cupcakes frosted with cream cheese frosting in the colour and shape of the final 26 participating countries' flags. Since Eurovision means indulgence, this was the time to make some indulgent cupcakes!
I baked and baked, and ended up with baking around 45 cupcakes. This was one of the hottest days in Oslo this spring. Our kitchen was boiling hot because of the weather, and so much more hot due to the oven being on for over 2 hours while baking. I was melting...
and so was my frosting!
What a disaster! I was panic struck and delirious from being in the heat, and I had no idea what to do. I kept trying to pipe, but the frosting was just dripping out instead. My flatmate, hereby known as Kathulu, was trying to help me pipe so we could quickly get to the party, but she had no luck either. Then came the unstoppable laughter of the ridiculousness of the situation.
It was insane!
We gave up after laughing a while. I placed 30 cupcakes on a baking plate, and splashed some frosting on them. I placed the pan in the freezer while I got ready for the party, and lo and behold, cupcakes with hints of frosting!! We were in such a hurry that I forgot to take pictures of the hilarious disaster, but I can say that they still tasted great!
But I still had about 15 cupcakes at home, which I obviously wanted to frost the following day. And I did! I had frozen some left-over frosting from another batch and was sure this frosting would work very well with these cupcakes. I didn't dare use the frosting from the day before, as I was afraid that the extreme heat would have spoiled it. But the combination worked brilliantly! Dark chocolate coffee cupcakes with after eight cream cheese frosting! YUM! Extremely unhealthy, but so delicious!
Double Chocolate Cupcakes
Cake recipe is from Deb's Smiths Kitchen, yielded about 45 small cupcakes.
85 grams fine-quality semisweet chocolate (I prefer 75%)
1 1/2 cups hot brewed coffee (preferably espresso if you want the coffee taste to come through)
3 cups sugar
2 1/2 cups flour
1 1/2 cups unsweetened cocoa powder
2 tsp baking soda
3/4 tsp baking powder
1 1/4 tsp salt
3/4 cup vegetable oil (I used melted cocoa fat, I recomment also trying coconut oil)
3 large eggs
1 1/2 cups buttermilk (please see note if you can't find buttermilk)
3/4 tsp vanilla extract
Preheat oven to 175 degrees celcius. Chop up the chocolate in small pieces and place in a bowl. Pour the hot coffee over and let the coffee melt the chocolate, stirring once in a while. Sift together all the dry ingredients. Beat the eggs in an electric mixer untill it becomes quite thick and light (almost lemon colour). Carefully and slowly, add the oil, buttermilk, vanilla and melted chocolate to the eggs. Add in the dry ingredients little by little, making sure it is blended smoothly.
If you don't have buttermilk, like me, there is a trick to create a mock type of buttermilk. I just can't find buttermilk anywhere in Oslo, so I always use this alternative type. In a measuring cup, put about 1 tsp of apple vinegar and 3-4 drops of lemon juice (optional, but I think it makes it taste better), the measure up 1 cup of milk. Leave the solution to thicken, stirring in it once in a while. This is for 1 cup of buttermilk, for more just add up what you need.
I only have one tin, but a gazillion silicone muffin forms. So, I place the liners in the silicone forms and filled them almost all the way to the top. This batter rises less than most batters will, so don't be afraid to fill them properly. Then place silicone forms with batter in them into the muffin tin and start baking the first batch. They need about 25 minutes of bake time, check if done with a wooden toothpick. If it comes out dry, it's done!
Let the cupcakes cool completely before frosting, or else the frostin will just melt, preferably on a wire rack. Now, it's been a while since I made the frosting, but I'm pretty sure that this is the amount you would need to frost these cupcakes.
After Eight cream cheese frosting
1/2 cup butter at room temperature
100 grams plain cream cheese
2 - 3 cups of powdered sugar
1/2 pack After Eight
Crush the After Eight either by hand or by food processor. If you wish to pipe with a small tip or in a particular shape, you should use a foorprosessor to really chop them up properly. I crushed by hand and had to use a round large Wilton tip to pipe, and even then I had some chunks that got stuck. Beat together the butter and the cream cheese, making sure it gets mixed well. Then start adding the sugar, little by little, untill the frosting has a thick creamy texture. Start adding the after eight, blending well. You might need to add a little more sugar after. Place it in a frosting bag and start piping!
I really like the look of a large round tip. Makes the frosting look like clouds ;)